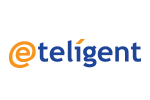 Establish
eTeligent Software Solutions Inc was established as a synergy of Teligent Systems Inc, an Information Technology solutions provider, with experienced and seasoned bankers/IT professionals, to focus on developing mission-critical financial software solutions and to offer professional IT services for the financial services and banking industry.
Leverage
eTeligent Software Solutions leverages on the in-depth and hands-on experience and expertise of its key shareholders having a combined experience of 95 man-years in Information and Communications Technology (ICT) industry applied to Banking, that includes setting up and managing the ICT infrastructure and mission-critical systems of banks and credit cards institutions;
and on key technical resources from the financial services development group of Teligent Systems, with a 14-year solid track record serving the Financial and Banking Services Industry, providing integration and delivery channels solutions in addition to outsourced application development and IT Staff Augmentation; with core competencies in software development and project implementation, including web-based applications, 24/7 electronic delivery channels applications (Mobile, Web, IVR, ATM, POS, EFT switches) using Java, .Net, VB and C#, PHP, Cobol CICS and database experience that includes the use of Oracle, DB2, Microsoft SQL, MySQL, PostgreSQL.
Synergy
The resulting synergy enables eTeligent Software Solutions to deliver highly flexible, modular, parameter-driven, easy-to-maintain and end-user friendly financial software solutions that are grounded on scalable 24/7 open systems, internet-ready technology design principles that can run on Windows, Linux (Red Hat, SuSE, Ubuntu), zOS or AIX operating systems. It also offers professional services that include turn-key implementation, end-to-end after sales support and maintenance/warranty program.
Value
eTeligent Software Solutions value proposition to the financial industry is to enable financial institutions to rapidly adapt to, innovate and setup unique trend-setting new financial products and services in an increasingly competitive business environment, starting from a few branches on an 8×5 operations to an expanded nationwide network of branches running non-stop 24/7 on the same solution base – helping you grow and growing with you .