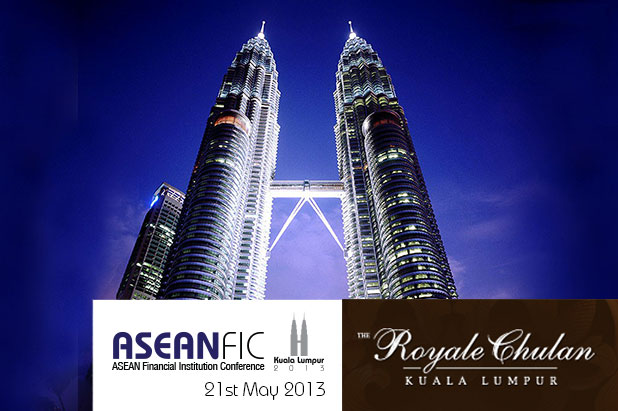 In 2013, ASEANFIC Kuala Lumpur 2013 will gather "the smartest people we know" in sustainability to debate and work collaboratively on some of the globe's most pressing problems, with an emphasis on "sustainable solutions." We'll formulate innovative approaches to the most important issues surrounding corporate banking, electronic banking, smart device payment, and financial securities.
ASEANFIC Kuala Lumpur 2013 brings together an extraordinary community of the banking or financial institutions CEOs and senior executives, investors, policy makers, chief technology  and technology leaders including experienced speakers within the industry across Europe. ASEANFIC Kuala Lumpur 2013 will gather all bankers around Myanmar discuss and share their thoughts surrounding topics in future banking and securities within the financial industries.
ASEANFIC Kuala Lumpur 2013
Date: 21st May 2013
Time: 8:30AM till 6:30PM (Lunch included)
Venue: The Royale Chulan Kuala Lumpur
Introduction
Welcome partners and thanks for your support in making this event a successful one. My name is Chin Wan and I am your organising chairman for the ASEAN Financial Institution Conference series. I will be assisted by my fellow colleagues as follows:
Sio – Event Manager
Danny & Rafidah – Planning Manager
This document is meant to give you tips on getting ready for the conference. In this document, you will get information about Kuala Lumpur, Entry Visa and many more.
I hope you are excited about this event as much as I am.
Lastly, I look forward to seeing you great people in Kuala Lumpur!
Sincerely,
Chin Wan
Organising Chairman, AFIC
Event Contact Person
Below are the contact details for the event.
Lim Chin Wan +6016 261 8925
Regional Sales Director
chinwan@securemetric.com
SecureMetric Chairman
Sio Chun Jia +6017 662 8252
sio@securemetric.com
SecureMetric Event Manager
Rafidah Ariffin +6016 261 8056
rafidah.ariffin@securemetric.com
SecureMetric Planning Manager

Danny Yap +6016 261 8086
danny.yap@securemetric.com
SecureMetric Planning Manager
ASEANFIC Kuala Lumpur 2013 Partner